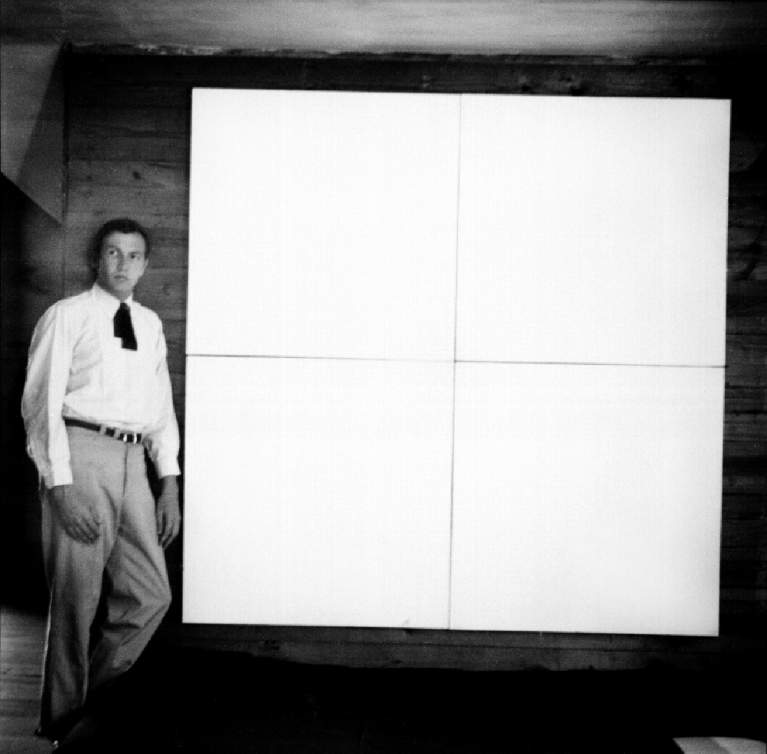 The Black Mountain Years: Experiments and Collaborations
Black Mountain College (Black Mountain, North Carolina, 1933–57), an experimental school focused on the collaborative teaching of art and science, served as a home and intellectual community for some of the most influential artists from the American postwar period. Robert Rauschenberg enrolled at Black Mountain in October 1948 following fellow artist and future wife Susan Weil to seek instruction from former Bauhaus professor Joseph Albers. As students, Rauschenberg and Weil gained a reputation for collecting scrap materials while on garbage duty, turning a chore into an envied discovery expedition. This kind of salvaged matter would be integrated into the Combines (1954–64). Rauschenberg completed his courses in spring 1949 and settled in New York. He returned to Black Mountain in 1951 and 1952.
Rauschenberg's encounters and collaborations with other artists at Black Mountain were critical to the development of his artistic sensibility. In 1951 Rauschenberg met artist Cy Twombly in New York, with whom he attended Black Mountain that summer. They returned the following spring, when Rauschenberg developed a longstanding friendship with composer John Cage and choreographer Merce Cunningham, both instructors at the school. Cage and Cunningham shared Rauschenberg's interest in the integration of daily life into art, which would become a theme throughout his career. In summer 1952 Cage organized a performance that was later called Theater Piece No. 1 and sometimes referred to by scholars as the first Happening. According to Cage, the event was meant to explore "purposeful purposelessness." He delivered lectures while others enacted performances with no thematic similarities during specific time allotments. Varying accounts recall Rauschenberg broadcasting Edith Piaf recordings on a gramophone, Cunningham dancing around and through the audience, and David Tudor playing the piano, with some of Rauschenberg's White Paintings (1951) hanging in the space as décor.
Cage observed that the monochrome surfaces of the White Paintings, uninflected by gestural brushstrokes, reflected changes in light and shadows in their surrounding environment. Cage identified these works as the inspiration for his signature "silent" composition 4'33" (1952). Following the White Paintings, Rauschenberg created dense compositions using paint and collages of nonart materials now referred to as the black paintings (1951–53). Concurrently he worked on his Night Blooming series (1951), painting dark canvases with a mixture of pigment, gravel, and dirt. 
Notably, Rauschenberg first experimented with photography at Black Mountain. Here, he conceived of the unrealized project of photographing the entire United States "inch by inch." The camera would remain a vital tool for Rauschenberg whether in the creation of individual prints or in generating source material for silkscreens and inkjet transfers for subsequent paintings.
—Sam Klotz, Stanford Arts Institute Summer Intern in Arts Administration, 2016