Grants
Ongoing
NYFA Rauschenberg Medical Emergency Grants, administered by New York Foundation for the Arts
Since 2020, support for visual and media artists as well as choreographers with one-time grants of up to $5,000 for medical emergencies.
2021
Abrons Art Center*
Continued support  to early and mid-career artists through cross-disciplinary performances, exhibitions and residency programs. Funds also aid the Abrons' Food Access Initiative that delivers weekly fresh groceries, prepared meals and key supplies to over 900 food insecure households across Lower Manhattan.
Artist Relief 
Helped launch second round with other endowed organizations to provide lead funding for the Artist Relief Fund to continue distributing $5,000 grants to artists facing dire financial emergencies due to COVID-19, serving as an ongoing informational resource and co-launching the COVID-19 Impact Survey for Artists and Creative Workers, designed by Americans for the Arts, to better identify and address the needs of artists moving forward.
Artists Space
Emergency funds for this arts organization to continue fostering the artistic and cultural life of New York City as a primary venue for artists' work in all forms, uniting visual, media and performing arts together under one roof.
Beach Sessions Dance Series: Moriah Evans' Repose
Support for the choreographer and 20 dancers involved in this free, newly commissioned performance taking place one day on Rockaway Beach for six hours.
COUSIN
To assist with costs associated with a publication, undertaken in partnership with Light Industry, that  is the first collection of writings, most newly commissioned, on Indigenous film. Cousin is a collective of four Indigenous filmmakers that supports artists expanding experimental forms of moving picture genres, from documentaries to installation.
Dance Rehearsal Space
To provide free and subsidized rehearsal space for two years at six small dance-focused organizations across the country— the Bronx Academy of Arts and Dance, Topaz Arts in Queens, MOVO Space in Minneapolis, Performance WorksNW in Portland, CounterPulse in San Francisco, and Movement Research in New York City, where the opening of the Bob Studio is scheduled for Fall of 2022.
Danspace Project
Emergency funds to sustain dancers and choreographers' creative efforts during COVID-19. 
Heart of Dinner*
Support for this culinary inspired organization that evolved to combat food insecurity and isolation among elders by delivering culturally appropriate meals, fresh produce and groceries paired with handwritten letters and heartwarming illustrations, meanwhile supporting small businesses as they recover from the impacts of COVID-19.
The Kitchen
Emergency general operating funds supporting the innovative work of emerging and established artists across dance, music, performance, theater, video, film and art.
Laundromat Project
Support for this Bedford Stuyvesant organization's build-out of its first space to simultaneously house all its staff and artists-driven community programs.
Lower Manhattan Cultural Council
Funds for a partnership with The Clemente, a cultural center on the Lower Eastside, to produce performance events and dance commissions as part of the 2021 and 2022 River to River Festival.
Mision Peniel in Support of Coalition of Immokalee Workers
Emergency assistance for farm workers in Immokalee, Florida to provide financial support and COVID-19 relief by offering free testing and cash assistance.
Moms 4 Housing*
General Operating Support for a collective of homeless and marginally housed mothers working to reclaim housing for the Oakland community from big banks and real estate speculators fighting under the banner that housing is a human right.
Nuwu Art, Cultural Arts and Activism Complex*
Support for the POC-owned and operated space in Las Vegas that works to uplift and advocate the equity of the Indigenous community by strengthening cultural knowledge and identity through the arts, activism and education. Nuwu renovated an old synagogue and rents the space as studios and a gallery for Indigenous artists.
NYFA Rauschenberg Dancer Emergency Grants, administered by New York Foundation for the Arts
To provide one-time grants of up to $5,000 to professional dancers who have a dire financial emergency due to the pandemic.
Protect the Sacred*
Funds will assist this grassroots initiative to educate and empower Navajo youth and young people through Indian Country to rise up as the next generation of leaders that will protect the elders, preserve the languages, medicine ways, and fortify cultural practices and traditions.
Public Assistants*
Support for the Crown Heights mutual aid hub provides a sanctuary for BIPOC and LGBTQIA+ artists to create freely without expectation, while also serving as a Resistance Community Space: housing a communal farm, garden, bike repair services, a mural project for youth, toy and coat drives, meal giveaways and an apothecary clinic among a host of others.
Rauschenberg Artists Fund* / COVID-19
Emergency funds for 13 artists nominated by the Artists Council: Arto Lindsay, Azikiwe Mohammed, Keijaun Thomas, Bernadette Van-Huy, Brenda Shaugnessy, Jennifer Teresa Villanueva, Juliana Huxtable, Kalamu Ya Salaam, Kenzi Shiokava, Luciana Achugar, Mariame Kaba, Paolo Javier and Sam Eng. Administered by New York Foundation for the Arts (NYFA)
Shelterwood
To provide support for infrastructure upgrades and repairs for the collective of community activists and artists to live on-site and host programs. Shelterwood is a Black, Indigenous, and LGBTQ-led community forest and retreat center working to restore damaged ecosystems through land justice, community revitalization, and active forest stewardship.
Summaeverythang Community Center*
Provide general operating support for the community center in South Central Los Angeles that delivers local, organic food to the Watts, South Central and Compton neighborhoods.
Together and Free
General operating support for this volunteer-run organization that provides legal, financial and mental health assistance to immigrant families from the time they cross the border between Mexico and Texas.
The Underground Museum
Funds for the renovations and programming of the museum's Purple Garden, a singular oasis in the South Los Angeles neighborhood where everything from meditation classes and film viewings to educational panels take place.
Wide Rainbow*
Funds for this after-school program to continue making the arts and arts education accessible to underserved communities by connecting contemporary artists with students from low-income neighborhoods and hosting art workshops, tours of leading museums and studio visits.  
Woodbine*
Support for the volunteer-run experimental hub in Ridgewood, Queens to expand its workshops, lectures, discussions and meeting space into a new and bigger setting.
2020
Artist Relief
Funding partner for the Artist Relief, a new national, multidisciplinary initiative that offers immediate individual grants of $5,000 to alleviate the effects of the pandemic.
Ayuda Legal Puerto Rico
Ongoing support of an organization providing swift, on-the-ground legal aid and educational services to the people of Puerto Rico, specifically in efforts to prevent foreclosures and evictions.
Bidoun Projects
Support publishing operations for two years, allowing Bidoun to continue to fill the gaping hole in the arts and culture coverage of the Middle East by supporting 15-20 Middle Eastern artists, writers, and critics per year, which will yield dozens of essays and articles, translations from Arabic and Farsi, as well as artist projects.
Blank Forms
Provide funds for two years to bolster the publishing work of Blank Forms, which supports experimental music across generations and geographies, and is dedicated to supporting emerging and underrepresented artists through curatorial assistance, residencies, commissions and publications well as identifying and placing at-risk underrepresented artists' archives.
Light Industry
Provide general funds for two years to support Light Industry's focus on experimental and under-recognized filmmakers and the expansion of its publishing initiative focusing on writings and criticisms of pioneering figures in the field.
Studio Museum in Harlem
Endowment of a named curatorial fellowship, part of a program at the Museum that serves as an incubator for new talent thereby developing the next generation of museum professionals. The Robert Rauschenberg Curatorial Fellowship will be awarded by the Museum on an annual basis to one awardee, for a period of one year, beginning in 2021.
Teaching and Learning through Photography: Tanzania
Support for the creation of affordable visual aids, aligned with the national curriculum, to enhance teaching and learning in secondary schools in Tanzania.
Ugly Duckling Presse
Provide two years of organizational support to Ugly Duckling Presse, a publisher that favors emerging, international, and "forgotten" writers, and publishes poetry, experimental nonfiction, performance texts, and books by artists including translations from under-recognized Eastern European and Latin American authors.
Vida Legal Assistance
Multi-year support of their work providing legal resources and representation to the most vulnerable populations in south Florida – immigrant victims of human trafficking and survivors of domestic abuse.
2019
Beta-Local
Three-year funding for this artist-run center to develop three of its key programs - La Práctica, The Harbor, and La Ivan Illich - as well as plan for a transition in leadership.
Coalition of Immokalee Workers
Five-year general operating support including to fortify its Fair Food Program and expand the worker-driven social responsibility paradigm it has developed to provide a Bill of Rights for farm workers.
LaGuardia Community College
Three-year funding to establish an experiential learning program focused on ecology, activism and wealth inequality.
* Funded by the recommendation of the Artist Council, an ongoing group of working artists that assists in shaping the Robert Rauschenberg Foundation's philanthropy and oversees a portion of the Foundation's grant giving. Artists Council stipends and expenses are funded through a grant from the Annenberg Foundation.
*** Funded by The Robert Rauschenberg Foundation Fund through the Southwest Florida Community Foundation.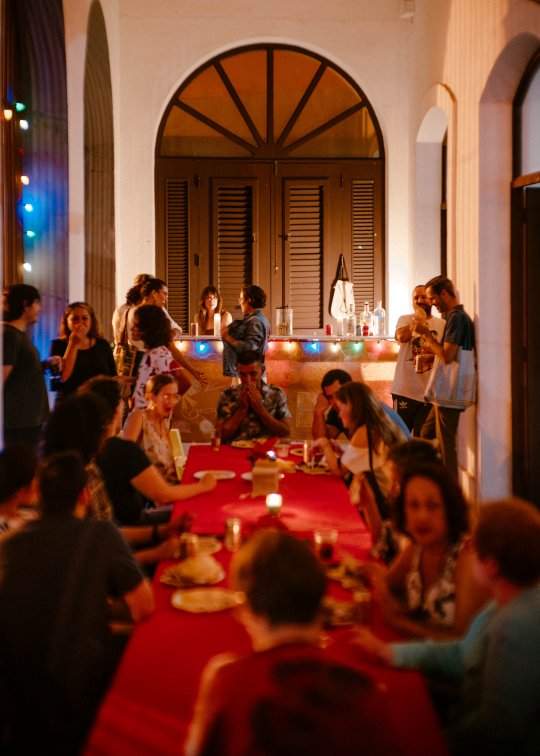 Community event at Beta-Local. Photo: Beta-Local