Rauschenberg Residency on Captiva
The Rauschenberg Residency is a creative center that welcomes artists of all disciplines from around the world to live, work, and create. The residency is located on Robert Rauschenberg's former property on Captiva Island, Florida, where he lived and worked for nearly four decades. The facility, which includes the 8,000-square-foot studio Rauschenberg built in 1992 and a collection of historic homes and studio spaces, is infused with beauty and tranquility and marked by its unique history. 
The Robert Rauschenberg Foundation launched the residency program in 2012–13 with a series of five pilot residencies that served to inform and shape the program. There are eight four- and five-week residencies a year that serve ~100 artists and scholars. The residency is by invitation. Selectors anonymously identify artists and creative thinkers from a diverse mix of disciplines, backgrounds, geographies, ages, and career levels, who are interested in working in an interdisciplinary environment and are open to the idea of collaboration.
The Rauschenberg Residency is inspired by Rauschenberg's early years at Black Mountain College where an artistic community brought out elements central to his art, collaboration, and exploration. The residency advances new work, extends practices into diverse mediums, and serves as a research and development lab. It fosters the ideal that artistic practice advances mutual that artistic practice advances mutual understanding, as it engenders a focus on conserving a sensitive and pristine environment fully integrated with the local surroundings. Events designed to connect the local and regional community with the artists in residence may include an open studio of works in progress, outreaches by residents, and on-site activities/tours held in partnership with schools and arts and environmental organizations.
The harmonious juxtaposition of natural landscape, modern and adaptable studios, and idyllic housing provides a perfect backdrop for the artistic process. The spirit of Robert Rauschenberg is everywhere.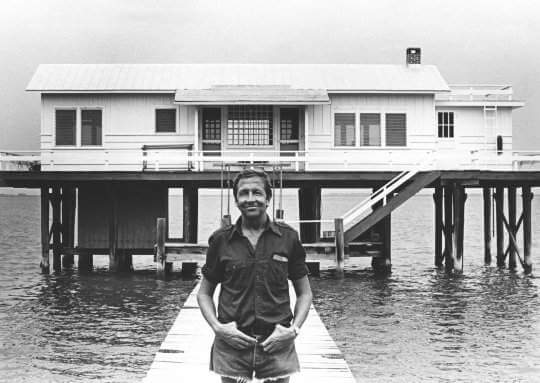 Rauschenberg in front of the Fish House, Captiva, Florida, 1979. Photo: Terry Van Brunt