Chef-in-Residence Program
The Robert Rauschenberg Foundation's Chef-in-Residence program (CIR) was created in January 2016 in response to the resident artists' appeals for more fresh, local Florida food, and to prioritize the Foundation's emphasis on environmental conservation and stewardship. The latter stems from Robert Rauschenberg's longstanding concern for the safekeeping of the environment as well as his love of food and cooking for family and friends.
The CIR provides healthful lunches and dinners for the artists in residence throughout each residency using food that is fresh, mostly organic, and grown on site or locally. In addition to sourcing edible plants and fruits growing on the property and in the vegetable garden, the CIR partners with regional farmers and growers to responsibly source food for the residency.
The program is open to application, providing the opportunity for new chefs to explore their own creative initiatives and to integrate the culinary arts into the residency program.  The application process for the next chef will open in fall 2021 with a start date in advance of the residency reopening in spring 2022.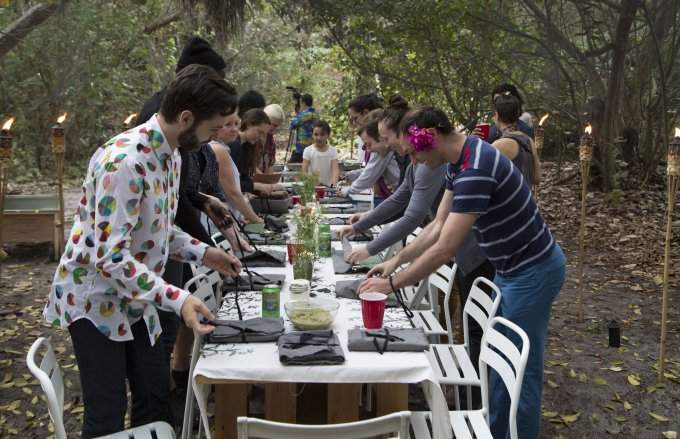 Artists in residence collaborate on a "Jungle Dinner," organized by Heather Carlucci.