Hunter College, CUNY, Art History Seminar: Rauschenberg, Spring 2021
The Robert Rauschenberg Foundation collaborated with the MA Program in Art History at Hunter College, City University of New York, on a seminar delving into the Rauschenberg Overseas Culture Interchange (ROCI, 1984–91) and its Latin American venues: Mexico, Chile, Venezuela, and Cuba. Led by Professor Maria Antonella Pelizzari, students were invited to engage with the complex layers of ROCI artworks through an analytical study of the artist's camera work.
Pelizzari's seminar focused on Rauschenberg's photography as a form of cultural encounter with a wide range of communities marked by a contested history, including Pinochet's Chile and Castro's Cuba. Exploring photography as a formative language in Rauschenberg's art, the course offered a close examination of the contact sheets printed from ROCI Latin America and the artist's strategies in the selection, sequence, and narrative montage of specific images into his large canvases. The visual analysis of these artworks, and of Rauschenberg's profound attraction to the vernacular dimension of foreign signs and textures, culminated in essays enriched by robust discussion of the cultural and political contexts of ROCI.
Several guest speakers addressed the breadth and diversity of the sociopolitical currents in which Rauschenberg operated as well as the studio and photographic practices inspired by these encounters: art historian Rita Eder (for Mexico), conservator Christine Frohnert, artist and curator Isabel García Pérez de Arce (for Chile), scholar of Latin American literature Vicente Lecuna (for Venezuela), Magnum Foundation director Kristen Lubben, art historian and curator Gerardo Mosquera (for Cuba), and ROCI artistic director Donald J. Saff. Formative discursive engagement with art historian and curator Gabriela Rangel helped to shape this program.
Due to the start of the class coinciding with the start of the pandemic, all research was conducted remotely. To meet this need, ROCI-related archival materials were digitized and freely available via online research guides.
A selection of student papers is published here.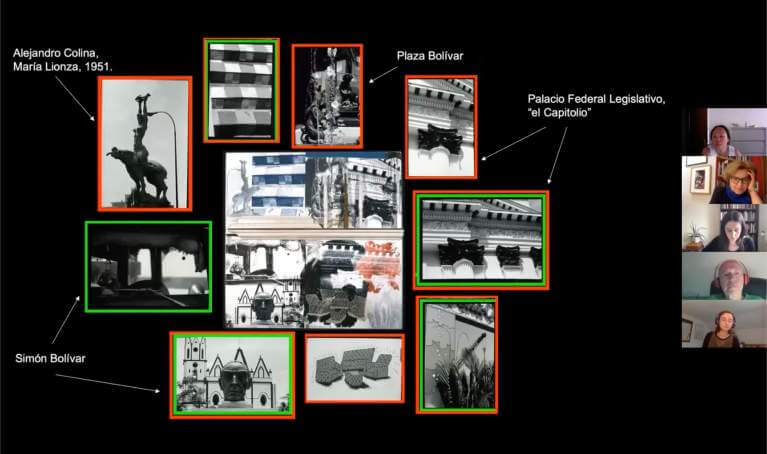 A Hunter student presents her final project on Rauschenberg's Capitol / ROCI VENEZUELA (1985), 2021.