Hunter College, CUNY, Research Methods: Robert Rauschenberg, Fall 2019
The Robert Rauschenberg Foundation collaborated with the MA Program in Art History at Hunter College, City University of New York, on a Research Methods course taught by Michael Lobel, Professor of Art History at Hunter College and the Graduate Center, CUNY. Examining the photographic underpinnings of Rauschenberg's work, the class was divided into three groups, focused respectively on blueprints (some made with artist Susan Weil, 1949–51, and others with Jasper Johns under the commercial pseudonym Matson Jones, ca. 1954–58); black-and-white photography; and the Hoarfrost series (1974–76). Each student produced a detailed essay and presented their findings at the foundation's headquarters in New York.
Research Methods is a foundational course in the Hunter College MA program in Art History that provides training in research skills essential for both academic and curatorial work. In conjunction with the Fall 2019 class, the Robert Rauschenberg Foundation mounted an installation of artworks that demonstrated Rauschenberg's use of the photographic image, including both large-scale and miniature blueprints, artworks from the Hoarfrost series, and a selection of the artist's black-and-white photographs. Each group member selected a single artwork or small body of related works to study in depth.
At Hunter College, Christina Freeman (Adjunct Assistant Professor of Art and Technology Coordinator) led a workshop where students, faculty, and Robert Rauschenberg Foundation staff created their own blueprints to better understand the technique. On Friday, November 22, 2019, the foundation hosted a study day with art historians, conservators, and artists at which Hunter College MA students shared their research and Prof. Lobel led a speakers panel that included Joshua Chuang (Miriam & Ira D. Wallach Associate Director for Arts, Prints and Photographs at the New York Public Library), Peter Mustardo (photograph conservator and co-founder of The Better Image), and artist Susan Weil.
The three essays focused on blueprints have been published here. The students produced a thematic essay on Rauschenberg's Hoarfrosts (1974–76), published on the Foundation's website.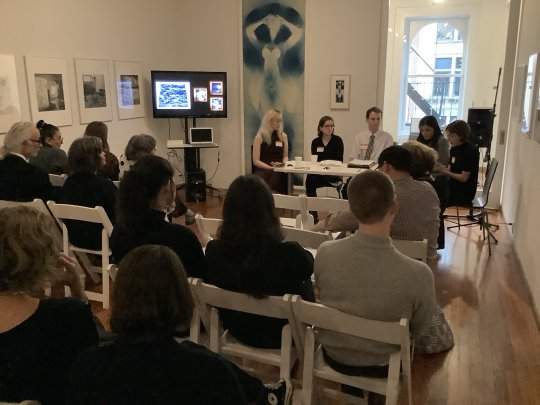 Hunter graduate students presenting their research at the Robert Rauschenberg Foundation as part of the blueprint study day, November 22, 2019.